Since I've already made it clear that I'm not a blogger, I feel no shame in the fact that I haven't posted since October–phew! This used to keep me up at night: trust me. Any writer worth her salt is blogging, right? As if I need to keep yet one more plate spinning…
But no, I write books. There it is. That's what I have to offer, dear reader. So if there are long periods of silence it's because I'm writing (like a fool), not one, but TWO books slated for release in 2016. More on that in a sec.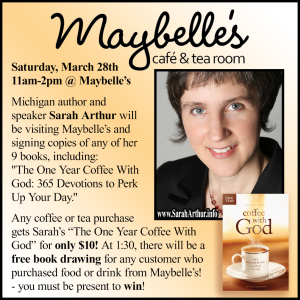 First, I have a fun book-signing coming up on Saturday, March 28 at Maybelle's Cafe & Sweets in Grand Ledge, Michigan, 11 AM to 2 PM. Call it a "Spring Coffee Break" (as if any of us need an excuse to beat cabin fever!). There will be book discounts & a drawing for Maybelle's customers, plus lots of book title options for graduations, Mother's Day, baptisms, weddings, anniversaries, birthdays, and more. Come support a local business & a local author! Hang out with other people who love caffeine AND books (really, what more could you want?)!
Second, I'm running a SPRING SALE on almost all titles via my "Shop" page: discounts & free shipping going on, all kinds of love headed your way. If you'd like me to personalize an order, just shoot me an email: sarah(at)saraharthur.com
Third, during the past year I've made the shift from writing alone–from slogging away and attempting to maintain some kind of "author platform" on my own–to writing in community. Here's the scoop:
Meet the Redbud Writers Guild. I can't say enough good things about these women. If you're considering pursuing the writing life but find the whole publishing industry and/or the thought of building a "platform" (and/or the sheer isolation of sitting alone at a laptop stringing words together, day after day) overwhelming, then you need this posse. Other people (ahem, men) seem to have no problem spending money on mere hobbies, so speak strong language to yourself about vocation–and don't let the application/ membership fees put you off. DO THIS.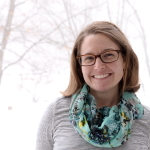 Meet my friend, fellow Redbud, and co-author, Erin Wasinger. Not only do I get to see this amazing woman every Sunday at Sycamore Creek Church, but our families are in the middle of a year-long experiment in community, taking the values and practices of New Monasticism and attempting to translate them into our suburban/rural, single-family contexts. We're recording this experiment in a forthcoming book for Brazos Press called The Year of Small Things: Radical Faith for the Rest of Us (fall 2016). Such an adventure! We'll keep you posted along the way. In the meantime, subscribe to Erin's blog, follow her on Twitter (or whatever form your fandom takes), and please pray for us.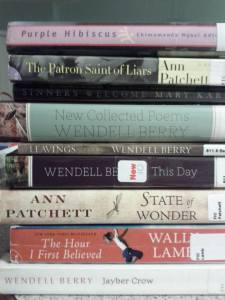 Fourth, the other book I'm writing in 2015 is the third and final installment in the literary guides to prayer series with Paraclete Press, titled The Spent Word: A Literary Guide to Prayer for Lent, Holy Week, and Eastertide (Feb, 2016). This is yet another form of writing in community as I get to curate selections and submissions by poets and novelists from throughout the centuries. If you have suggestions of works and writers I should include (particularly non-whites), please email me by April 1 at sarah(at)saraharthur.com. Meanwhile, here's a bonus excerpt from the Christmas collection Light Upon Light.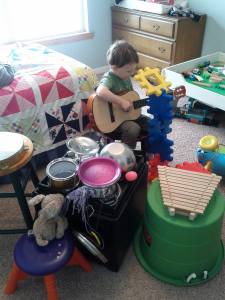 And finally, for the grandparents: the boys (Micah, age 4; & Sam, age 20 months) are great–survivors of a miserable cold/flu season, but otherwise great. Micah is enjoying preschool and loves to play "worship band" (see left; note the stuffed puppy at the "drumset"); Sam is talking and obsessed with buckles, snaps, locks, and with generally taking apart the universe. We have a fantastic care-giver by the name of Alice McKinstry (yet another reason why I can't write without community!). Hubby Tom just ran a successful capital campaign to missionally remodel our new-old church building at 1919 S. Pennsylvania in Lansing, MI, so we are breathing a little easier lately. Thanks, all, for your prayers.
Some closing wisdom from Anne Lamott's Bird by Bird: "What people somehow (inadvertently, I'm sure) forgot to mention when we were children was that we need to make messes in order to find out who we are and why we are here–and, by extension, what we're supposed to be writing."
Peace,