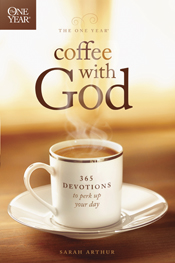 Note: The One Year Daily Grind is technically out of print, but the new edition–titled The One Year Coffee With God–is now available. See the Shop page for ordering signed copies.

365 devotions for the spiritual life
Sometimes the only thing that props you up in the morning is a shot of caffeine, the daily grind. You'd move heaven and earth to get your hands on it.
So what would happen if you treated your devotional time with God that way?
In a conversational, blog-style ramble, Sarah Arthur invites you on a journey from the coffeehouse to true community. Tracing a year of transitions in her own life, she explores both the subtle and the startling ways God transforms us through daily spiritual routines like prayer and living simply.
Two-thirds personal story, one-third spiritual search, with a shot of playful poesy—The One Year Coffee With God fills your cup with plenty of brew for thought.
It's perfect for young adults as a great graduation, holiday, birthday, or wedding gift. Signed and personalized copies are available here.