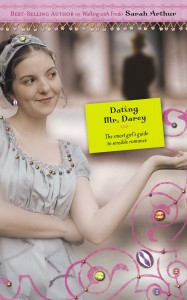 The Smart Girl's Guide to Sensible Romance.
Timeless tips on dating and romance from Jane Austen's ever-popular romantic comedy, Pride and Prejudice. Yes! Even if you're not a fan of romance, you know someone who's secretly in love with Colin Firth or Matthew Macfadyen.
Jane Austen's 19th-century romantic comedy continues to attract devoted fans, particularly as recent film versions and various spin-offs bring Pride and Prejudice to a new generation (Keira Knightley, anyone?). But the story is about more than just adorable young celebrities, in gorgeous costumes, engaged in the art of wooing and being wooed. Woven throughout the novel are timeless lessons on dating relationships as formed within the contexts of family, friends, and faith. A guy's character is inescapably shaped by these other relationships, all of which the sensible girl takes into account when it comes to romance in the 21st century. Fun, fun, fun!
Looking for a great girl's small group guide, graduation or Valentine's gift? Signed and personalized copies are available here.
Fun feedback from readers:
Mrs. Arthur,
I wanted to thank you. My two best friends have boyfriends, and spend A LOT of time with them, and I was feeling a little neglected in the dating department. My sister got me your book as a "pick-me-up" gift, because I am a HUGE Pride and Prejudice fan. Reading your book was very enlightening, insightful, and a breath of fresh air. It taught me not to lose sight of what truly matters in my life. I look forward to that moment when I can find my own Mr Darcy, and not to try and rush and/or force that process. I look forward to reading much more from you. Thank you, thank you, thank you again!
Sincerely,
Leslie
First of all, I would like to thank you. Being a 14 year old I love romance just as much as the next girl, but I am (was until I read your book) tired of our 21st Century evaluations… I needed something more than just your average dating book. I've been in love with Mr. Darcy ever since I picked up the book about a year ago. Austen seemed to have carefully picked my perfect guy out of my many day dreams (when I'm supposedly listening in math class) and wrote a book about him. So thank you for giving me some food for thought. Your book is going to be a guide I can follow on how to evaluate any guys who come my way. It's encouraging and I pray that you know what a great impact your many devotions (I've read them all, however the Dating Mr. Darcy is my favorite) are making.
From Ashley
Hey Mrs. Arthur,
I was wondering if you were planning on coming to Texas any time soon. I just started reading your book Dating Mr. Darcy and I love it I really want my whole youth group (the girls) to read it! It is so good. Thank you so much!
in Him,
Rachel
Micah 7:7